4 Devils Studio Catalog
4 Devils Studio Catalog
All of these 4 Devils Studio products are available for download EXCLUSIVELY through DriveThruRPG.com!
Buck Plugs #1: Arson Wight
Arson Wights are humanoids who perished in fires they themselves set, and who rise from death to continue their pyromaniacal ways. Their scorched bodies are unrecognizable to any who knew them in life, blackened bones twisted and flesh melted. Arson Wights almost always dwell in the ruins of buildings they have burned, frequently the scene of the fire in which they lost their lives.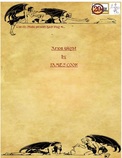 Buck Plugs #2: Streakbreaker!
Every Gamer has had those times when the dice seem to be perversely antagonistic. Every Gamer has had a string of bad rolls that turned a Gaming session into a comedy of fumbles. Streakbreaker is going to change that, and give Gamers a way to turn poor rolls into bonuses they can use later on. Using the Streakbreaker rules presented here may bring an end to incessant runs of bad die luck, and possibly end "dice shaming" forever!
Buck Plugs #2 - Streakbreaker contains 2 new rules, 3 new feats, and 2 new magic spels, all compatible with ALL d20 based OGL Role Playing Games, including The Pathfinder Role Playing Game.